Svadhyay combines two Sanskrit words: SVA + Adhyay, where SVA stands for self, Adhyay for study. Through Svadhyay, the flagship program of Svatah, we hope to empower students from grades 7-12 with the right financial attitude, knowledge, and behaviour to enable them to make well informed financial decisions early on. We aim to demystify finance for children and help them realize that finance is not just easy, but also fun, relevant and valuable! In line with Svatah's mission of empowering people and enhancing their decision-making skills to achieve a life of financial stability for themselves and their families, Svadhyay hopes to democratize and scale access to financial literacy. We do this by providing students with experiential and credible personal finance courses that give them the necessary tools to grow wealth by making well-informed decisions.
The Need for Svadhyay:
An online Financial Literacy Championship, conducted by the Streak(a new age bank for teenagers), revealed that almost 16.7% of the Indian students had an average passing score in the quiz. The championship was conducted for the students aged between 11-17 years on the topics like budgeting, investments, risks and returns, diversification of risks, etc.
Surprisingly, it was found out that;
More than 50% of the students scored below average in the mentioned topics.
60% of the students don't understand the concepts of investments, risk returns, time value of money.
45% of the students don't know how to create a budget.
However, children better understand banking products, the basics of inflation, simple interests, and compound interests. This makes it crystal clear that students are not taught 'personal finances' in their schools, thus making it highly difficult for them to imbibe those skills.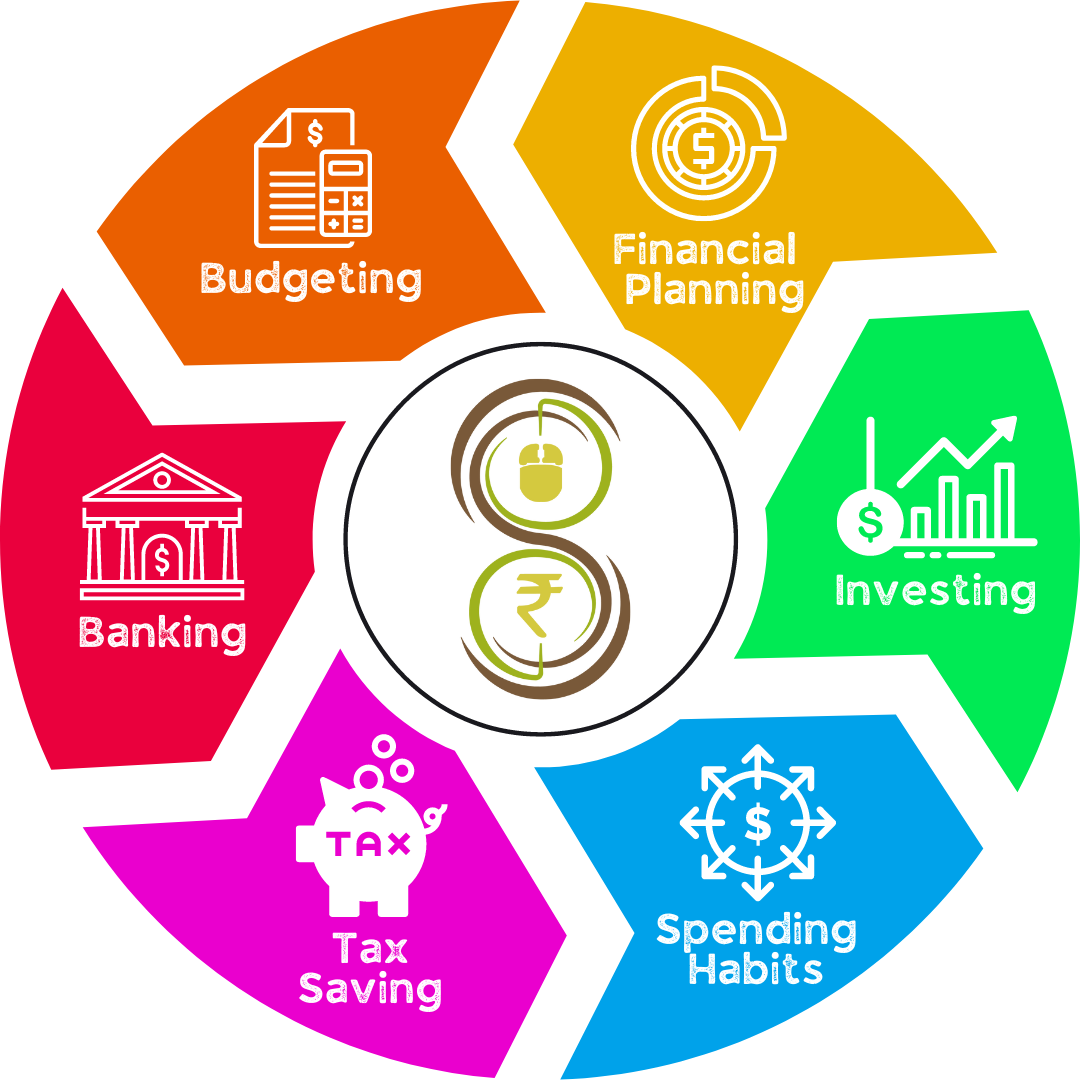 Our Approach:
Having worked with 500+ students virtually, we have formulated our courses to set students up for financial success. Special care is taken to cover all the topics pertaining to personal finances so that students have an all-round knowledge about managing their money. After identifying the areas where students are facing difficulties, we have prepared well-structured, engaging and easy to follow courses. They will help students become financially knowledgeable and imbibe saving, investing, and budgeting habits.
We teach students about the basics of personal financial management that will lay the foundation to enable them to make financially informed decisions and live a financially stable life in future. While new concepts are being introduced, special emphasis is placed on the right attitudes and behaviours that the students need to inculcate along with the knowledge pieces. Svadhyay covers key concepts like budgeting, financial planning, investing, spending habits, tax saving schemes, passive income generation via stocks and mutual funds, government schemes to leverage etc.
Our Team:
We have a team of content creators, seasoned educators, financial experts, technology experts and mentors working day in and day out to make sure that the students have the best possible experience. Our team is focused on creating an ecosystem where every participant can maximise their learnings about personal finances. For the past 7 months, our team discussed and debated on things ranging from 'what colour should the background be?' to 'what software should we use?' to 'what is the best way to provide the resources?' to make sure that the students are comfortable and have a great experience learning personal finance. And now, we can't wait for the magic to unfurl and reach the students.
Get Involved:
We at Svatah believe that each and every Indian should have the knowledge of personal finances and we truly believe that Svadhyay is a step towards that. If you resonate with us, we request you to spread the word about Svadhyay. You could be a part of this movement too!! All you have to do is sponsor the courses for students, and help us reach out to more students. Click on the donate button at the top right of the screen to know more. For full access and details regarding our course structure on personal financial knowledge named SVAdhyay, a unit of SVAtah, click on the link / contact our team. We are here to support your financial journey.